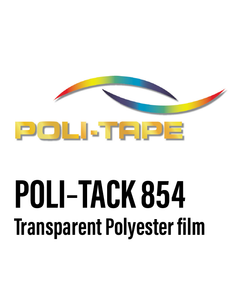 Transparent Polyester film coated with a cross-linked acrylic adhesive offering excellent temperature resistance, ageing and UV stability.
The adhesive can be removed without residue even after long periods of usage.
POLI-TACK 854 transfer film is suitable for thermal transfer of heat sealing substrates, i.e. for the transfer of Flockand Flex-film onto textiles.
Ideal For use with TURBO-PRINT 4036 MATT
Call Us (01) 620 55 55  /  Email sales@premierpaper.ie