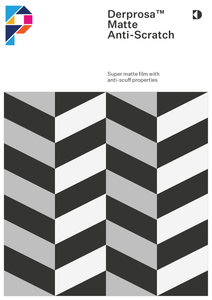 Super matte film with anti-scuff properties
Special features
Special scratch-resistant top coated film that protects lamination jobs against scratching and abrasion.
Specially recommended for finishes such as spot UV, hot stamping, gluing and all kind of post lamination processes.
Wet and Thermal versions available, including Digi-Stick for the most demanding offset and digital projects.
Glueable, stampable and printable.
Printable by traditional offset with oxidative inks (specifically for non-porous materials), offset UV and screen printing.
Typical applications
Photo printing
Magazines
Postcards
Brochures and catalogs
Luxury folding cartons such as perfumes, spirits, jewellery, luxury bags, etc