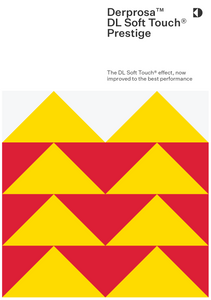 The DL Soft Touch® effect, now improved to the best performance
Special features
The best combination of an exclusive peach skin texture and superior bonding strength.
Excellent contact clarity and enhances the original printed colours.
Specially recommended for finishes such as spot UV, hot stamping, gluing and all kind of post lamination processes.
Outstanding definition of thinner and solid laydowns applied with state-of-the-art 3D digital UV finishing technologies.
High yield.
Glueable, stampable and printable.
Printable by traditional offset with oxidative inks (specifically for non-porous materials), offset UV and screen printing.
Typical applications
Hard and soft book covers
Electronics packaging
Rigid boxes
Chalkboards
Luxury folding cartons such as perfumes, spirits, jewellery, luxury bags, etc