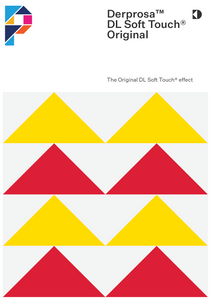 The Original DL Soft Touch® effect
Special features
The original and first ultra-matte BOPP film with a pleasant and intensely smooth tactile effect which conveys the sensation of luxury and exclusivity.
Specially recommended for finishes such as spot UV, hot stamping, gluing and all kind of post lamination processes.
Excellent contact clarity and enhances the original printed colours
Wet and Thermal versions available, including Digi-Stick for the most demanding offset and digital projects.
Glueable, stampable and printable.
Printable by traditional offset with oxidative inks (specifically for non-porous materials), offset UV and screen printing.
Typical applications
Hard and soft book covers
Electronics packaging
Rigid boxes
Luxury bags
Premium prints
Luxury folding cartons such as perfumes, spirits, jewelery, luxury bags, etc