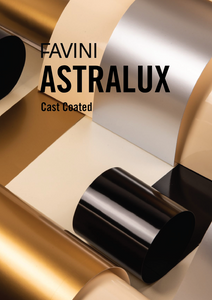 Astralux is an outstanding cast coated grade due to its superlative print performance and fast ink drying time.
The beautiful high white mirror gloss surface will effectively improve the luscious look of your packaging. Excellent bulk and stiffness guarantee incomparable performance with all converting and finishing techniques. Best for labelling.
Bindakote has a Super smooth and mirror gloss surface, excellent stiffness and bulk with specific papers for labelling. 
Bindakote has brilliant colour stay and market leading drying properties. Bindakote Colours is a unique range of brilliant colours plus black on black, pearl and soft metal shades, for all creative print and luxury packaging ideas.